Meet Dr. Jim Kaminski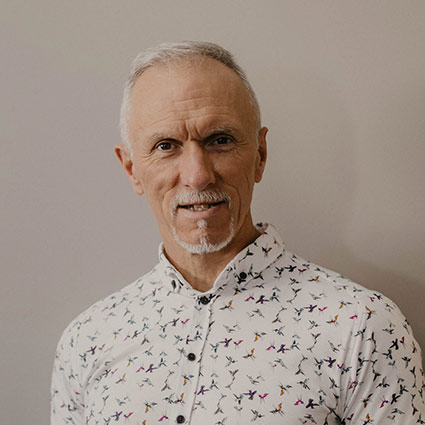 Dr. Jim loves changing lives!
"When someone walks into our clinic hurting, or not as healthy as they want, having the opportunity to lay hands on them and see their lives blossom and change is what inspires me to continue practicing."
Dr. Jim uses
chiropractic care
to improve overall health and wellness in every area of our practice members' lives. Whether that's problems with back or neck pain, or just to feel better when they wake up each morning.
A Chiropractic Journey
Dr. Jim recounts a time when he didn't know what he was going to do with his life. He just knew he wanted to do something different, and make an impact on people's lives. One day, while at work, some information about chiropractic came across his desk, and he took it as a sign.
That began his journey to university, graduating with a Bachelor of Science degree, with Honours. He then enrolled at Canadian Memorial Chiropractic College, where he earned his Doctor of Chiropractic degree, graduating in 1992. He continues to pursue further education in all aspects of care, including pregnancy and pediatric issues.
Inspiring Others Along the Way
Dr. Jim began receiving chiropractic care at the age of 19 and credits his doctor for helping him along the way. He was so inspired by the man and his passion for chiropractic; and now he's the one inspiring many young people to pursue chiropractic, including his two children.
Outside the Practice
When he's not spending time with his family, you can find Dr. Jim doing weight training. Many years ago, he was a competitive bodybuilder, and continues to train to this day. He likes to tell his practice members he trains to make sure he's healthy enough to continue to help them.
Skilled Care for All Ages
Chiropractic can reduce your pain and help you get back on the path to better health. Contact our practice to make an appointment. Be sure to ask about our new practice member special!

Dr. Jim Kaminski | (519) 843-1500