Chiropractic Care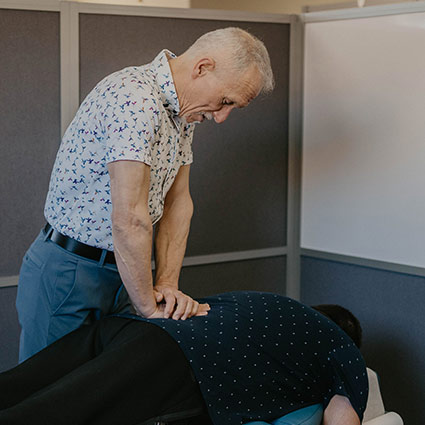 Chiropractic is one of the largest natural health care professions in the world, providing health and healing without drugs or surgery for many. At Fergus Family Chiropractic Wellness Centre, our practice members experience transformational results under this gentle and effective hands-on care.
Our team takes a whole person approach to chiropractic care, which means looking for the underlying causes of disease, discomfort, and pain, instead of just treating the symptoms. Many seemingly unrelated symptoms often arise from imbalances in the spinal column.
How We Help You
Brain-body communication is absolutely vital to prevent illness or a breakdown in the body. Any interference disrupts the signals to the body. Our job as chiropractors is to identify any spinal misalignments (subluxations) affecting that communication and work on correcting it.
Our doctors are able to determine the root cause of the pain, and create a personalized chiropractic and wellness plan to suit each practice member's individual needs. Under the supervision and care of our caring and skilled chiropractors, practice members report higher functioning in all areas of their lives.
Techniques for You
Our doctors are skilled in the use of many spinal corrective techniques and a combination may be used to give our practice members the best results. We use both manual and instrumental techniques – diversified and activator – as well as Thompson technique which is a gentle drop table that assists in your correction. Our care is tailored to each patient's needs. The approach we use is based on our clinical judgement and years of experience. Everybody is different, and each person is unique.
We give each patient home care exercises and rehabilitative work to do at home to continue to improve their health.
As your partner in better health and wellness, we're eager to help you and your loved ones.
We want to be YOUR choice for better health.
Who We Help
Our practice members have found solutions for musculoskeletal conditions like headaches, back pain, neck pain, sciatica, and more through our corrective and optimization care.
Ready to Book?
Contact Fergus Family Chiropractic Wellness Centre today to schedule an appointment!
CONTACT US

Chiropractic Care | (519) 843-1500